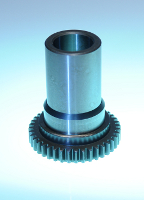 We are equipped for machining spur gears from module 0.5 to module 10 with a minimum diameter of 5 millimeters and a maximum of 500 millimeters.
The gears can be straight or helical, for chains or worm screws.
We are also especially equipped for the machining of splined shafts of all types.
Our machine tools are among the best brands on the market and can machine shafts with a max diameter of 300 and a length of 800.
We carry out broaching and the full supply of any parts based on drawings.
Machining:
- Spur, straight and helical gears (from module 0.5 to module 12, maximum diameter of 1200 mm).
- Maximum length of 3000 mm
- Splined shafts of all types
- Pulleys
- Chain gears
- Both small and large series
- Crowns for worm screws